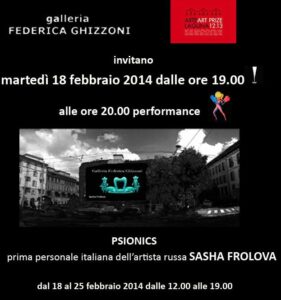 Galleria Federica Ghizzoni presents first personal exhibition of russian sculptor and performance artist Sasha Frolova in Italy. This retrospective exhibition shows main works that were made during the last 5 years and includes sculptures, objects and photos. Sasha Frolova, also known as performance artist with her performance project Aquaaerobika – will show special performance during the opening night.
Sasha Frolova's sculptures sometimes resemble a pop-art sculpture, sometimes they are closer to experiments with visual tricks in the spirit of op-art. But the core of all compositions is the loop, loopback rhythm by which all objects are frozen in the process of reproduction and motion.
Sculptures presented at the exhibition are united by the theme of Psionics, from "psi" (psyche) and "electronics" (electronic devices) – fictional mechanisms, which use in their work the superpowers of the human consciousness and psyche. "Psionics" is a result of artist's conceptual transformation of the utopian theory about sharp jump human's intellectual abilities in the future, appearance of something what is now called "cognitive singularity". Arise Homo Sapiens superior – "post-human" – the being with fundamentaly new capabilities and opportunities, who will create a world where today's utopia become the norm.
The exhibition represents the results of the artistic synthesis of the artist's contemplations of the stereotypes of mass culture and the nature of phenomena linked to the influence of ideas on matter. The futurological concept of the exhibition is dedicated to playful means of manipulating energy and represents the artist's attempt to look beyond the horizon of evolution. It is as though these sculptures have come from the distant future. In them is guessed the fascination with cyber-punk, and future models based on the production of increasingly sophisticated gadgets that someday might be able to become prostheses of the emotional sphere.